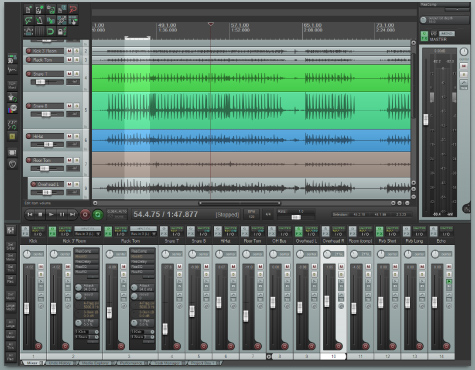 Reaper is the best friggin' DAW out there.
Period. Fuck Pro Tools, man!
I have been a Cakewalk Sonar Home Studio (now X1 Essential) user since I started getting serious about recording with computers. I still like Sonar, and I really love X1 Essential since I got a free upgrade to it when it was released.
However, these days… I've found myself using Reaper more and more and more. It's SO friggin' fast, SO configurable, and it can do ANYTHING you want… with keyboard shortcuts, mouse modifiers… you name it. It's ridiculous.
I HATE PRO TOOLS.
It's just hype! It's slow as hell, it crashes all the time or gives DAE errors, and everyone is a lemming for using it. Now granted, to be fair, I got some of my students into Pro Tools MP9, because it's a decent deal when it (and an ilok) comes bundled with the Mobile Pre interface from M-Audio. It's a good value, yes. And Pro Tools still has the prettiest interface of them all. But that doesn't mean shit to me. Workflow is everything.
That said…. Reaper's workflow is ridiculous! It's so fast, so easy to use, and it NEVER…. and I mean NEVER… crashes. EVER. I wish I could say the same about Sonar Home Studio or Sonar X1 Essential. Every time I use it, it crashes… no matter what I do.
I have used Sonar extensively for the past few years, and I still do enjoy its interface and functionality. But then…
A few weeks ago, I was making some midi loops, and then bouncing them down so they would become wav loops, basically for students of mine and for a songwriting camp I run (especially for the kids who don't know how to play piano but want to write songs on it). I spent a few hours making simple piano pattern loops and simple 8th-note chord patterns in various guitar-friendly keys, and built a small library of cool piano loops.
During this creative time, Sonar crashed like ten times in a row, when I was messing around with a midi transpose plug-in, so I wouldn't have to perform the same pattern in each key / scale degree. It crashed TEN TIMES IN A ROW.
I was so pissed!
Let's backtrack a bit. I have used Reaper on and off since summer 2008 (when version 3 was out), and although it wasn't great, it had a lot of potential. So I would suggest it to students looking for a near-free recording program (especially the kids who didn't have macs)… but it was so confusing to use (for me, and especially for them). So I put it on the back burner for a bit.
Then Reaper 4 came out, and I downloaded version 4.21. I found myself using it a LOT, especially for lessons when I had to transpose a rock song in Eb tuning (Green Day, Jimmy Eat World, etc), so I, and my student didn't have to detune our guitars. It was so easy to do this in Reaper, and I found myself exploring the program more and more in my free time. The more I explored, the more I loved it.
So, after the crash-happy adventure with Sonar, I exported the midi stuff I did in Sonar as basic midi files, and brought them into Reaper to do the same process (transpose, bounce, etc). Reaper didn't crash once. It happily did everything I requested of it, and it was FAST as hell, too.
So after that, I said… "ya know, I've been using this program on off for four years… always waiting for the nag screen that says I need to buy Reaper.. (by the way, Reaper will NEVER expire… it is a fully-functioning program that will never "time-out" or whatever… it's not really a demo. It's a fully-functioning recording program that nags you to buy it every 5 or so times you open it or start a new project. Not a big deal. But hell, it's ONLY $60 for a personal/non-commercial license (non-commercial meaning, if you make less than $20,000 a year through selling music or providing recording services, you can get the cheaper license… it's like an honor-system thing, which I think is great). Anyway. Sixty bucks? I said fuck it man… I'm buyin' this shit finally.
I paid Cockos Software, and within seconds, I received my license key, which I happily imported into the program, and no more nag screen.
I don't really have much else to say as I want to get back to working on some music using Reaper, but seriously, people… download the program. Try it out. Watch tutorial videos on YouTube. And you should buy the "Reaper 4 Explained" tutorial videos from www.groove3.com (they're cheap, and they show you basically everything you'd want to know, and then some).
This is the best DAW (digital audio workstation) out there. It's no joke. It is insanely freakin' powerful/configurable, relatively easy to use, and it is the SMALLEST program, and loads in seconds.
As I said in a previous post, don't believe the Pro Tools hype. Reaper has only been around for about 7 years, but damn, has it come a LONG way. Exceptional and functional are the two words I can best use to describe the program. Wait, here's another: FAST. And another: STABLE. And another: CHEAP. And another: POWERFUL…..
You get the point. GET IT! You won't regret it.